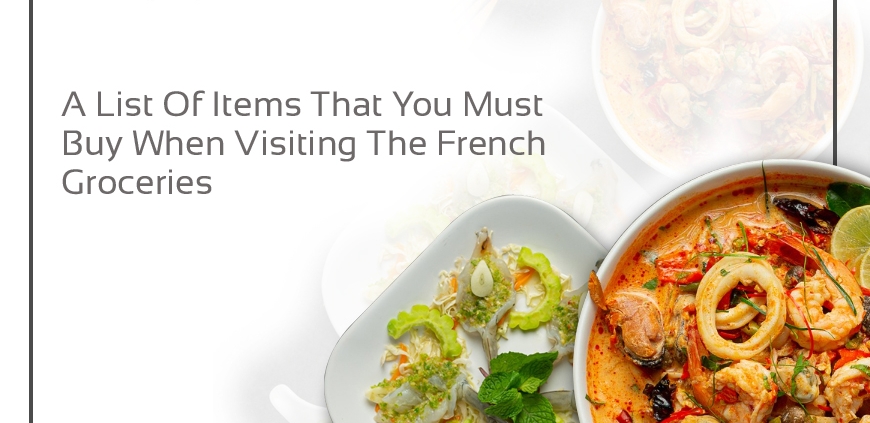 A List Of Items That You Must Buy When Visiting The French Groceries
The French fine food items and wine are popular all around the globe. So, if you are planning to visit a French grocery store during your stay in Singapore, here are a few items that you can buy.
1. Readymade Cream Brulee: It is impossible to miss the yogurt section of a French supermarket where you will find row after row of ready-to-consume desserts like tiramisu, and chocolate mousse. And the readymade cream Brulee is another popular French dessert that would win you over. Just sprinkle the crumble caramel onto the custard and watch how it melts like magic into the hard crust of Brulee.
2. Family packs of Madeleines: If you visit the large French groceries, then you will find that there is a complete section dedicated to the scalloped tea cookies that you can buy in 36 and 24 count value packs. The best Madeleines are buttery and eggy with a hint of coconut.
3. Tiny goat cheese: You will find a wide range of c_rottins de chevre or soft-ripened rounds of goat's milk cheese in every French supermarket that would be under two inches in diameter. These cheese cubes are available with a nutty, mild flavor and consistency that is similar to the triple-cream brie. But surprisingly, each cheese cube costs less than a euro.
4. Butter with sea salt: Whether it is because of the higher fat content than the American butter or the grass-fed diet of French cows, French butter is always better. And the fleur de sel, and delicate sea salt crystals add savory crunch to the butter. This also makes the butter unforgettable.
5. Juice syrups for cordials: The most popular French juice sirop is the Grenadine, but there are many other types of flavors starting from peach to lavender to mint, which are equally popular. These syrups are blended with water for preparing brightly colored cordials that are then consumed like soft drinks.
6. Pate in a jar: When it is not served fresh, Pate is usually preserved in glass jars with rubber seals. And you can find a wide range of canned and jarred pates, foie gras, terrine, and confits in the frozen daily section of the French supermarkets along with canned meats.
7. Canned Cassoulet: This is one of the most popular items to choose from when you visit a French grocery to buy French food online. Making cassoulet includes shimmering tomatoes, white beans, wine, and a range of sausage and confits, and wine for hours. Apart from that, you can choose the La Belle Chaurienne canned cassoulet and can garnish it with breadcrumbs and then heat it in the oven. And the outcome can be like the homemade one.
8. Escargot: If you want to be a little adventurous cook, then you can prepare this dish on your own. You can find frozen and canned snail in the grocery stores and sometimes they are even available pre-cooked at the deli. And they are available cheap. For example, you can get a dozen of pre-cooked snails at less than a euro.
9. Marshmallow bears: The marshmallows are originated from France and the milk chocolate and oursons guimauve covered marshmallow teddy bears are highly popular among French kids and adults. So, you can easily give it a try.
10. Chestnut paste: If you want to try the classic crème de marrons, then let me tell you that it is made of Clement Faugiere brand and sold in tubes and cans that are very similar to toothpaste. And the best thing about this slightly fruity and sweet paste is that it goes perfectly on crepes, toasts, and croissants.