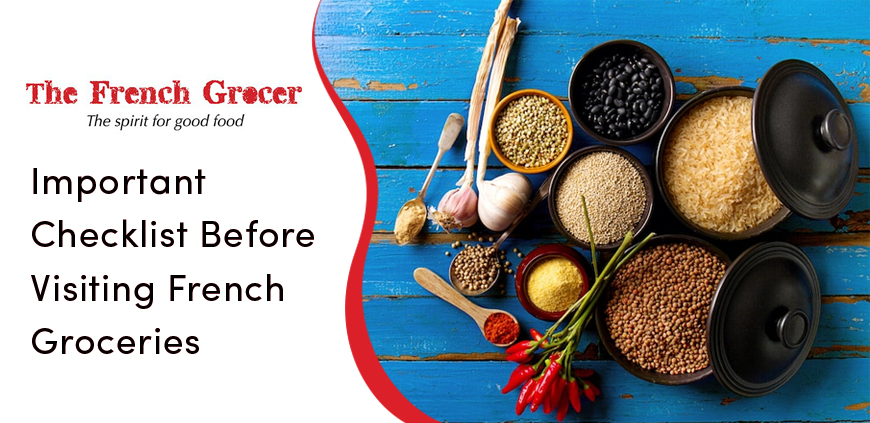 Important Checklist Before Visiting French Groceries
French Groceries Compared to other countries, France manages to have individual small stores for every type of food. Earlier it was available all around Europe and after that got replaced by imported mass- produced and cheaper goods available in the supermarkets. But in French stores, fresh ingredients are regularly available every day of the week (except Sunday). Besides, French supermarkets are conditioned from a tender age for supporting small producers and those people, they know. So, if you are visiting France for the first time and want to visit the grocery stores in the country, then we can offer you some insights into the grocery stores in France.
Opening hours of French grocery stores:
Big grocery stores are open from 8.00 to 8.00 p.m. or sometimes till 9 p.m. and 6 days every week. Generally, smaller stores remain open till 8 p.m. and the bigger stores remain open even on Sunday mornings. Earlier, all stores were closed on Sunday, but the hours are now expanding slowly. Try to visit the French groceries within this time frame.
How different are the big supermarkets in France?
If you are visiting France from any American city, then you must know that you will not find any pharmacy around or inside the supermarket. You will find a parapharmacie, but you will not find any place to fill out the prescription. Pharmacies in France are quite similar to local bakeries, butchers, or cheese shops. They are privately-owned and specialized stores. You will not find any shopping carts in the parking lot outside the store. But you will get the smaller ones inside the market. Another best part of shopping in the major grocery stores in France is here the major brands offer truck and car rentals for the lowest rates. This offer is also applicable if you buy French food online.
Now let's have a look at the things to expect when shopping from the grocery stores in France: The majority of the grocery chains in France have mid-sized stores. "Superette" is the commonest type of grocery store downtown found in any French city. It is mainly the basics only, small grocery store and the availability of stocks is not huge. Besides, here you will find a fresh veggie aisle of mediocre quality. But there you will find all your necessities including alcohol. But depending on where you live in France, these stores may close a bit later or a bit earlier than other stores. Some of these stores also offer a reliable service of Mondial relay shipping.
Apart from that, there are many budget grocery stores in France where you will find a good selection of organic products along with many "made in France" products. And you will find a wide variety of fruits and vegetables in these stores.
Vegetable and fruit shops:
This is another category of French Groceries stores that you must visit when you are in France. Earlier, people used to buy fresh produces from these stores before the big stores became popular. And you will still find many vegetable and fruit shops around. Although these shops are not necessarily organic or local, the quality of products offered by these stores is often better than the supermarkets or regular grocery stores. Here the collection is based on the requirements of customers and their preferences. Besides, these shops can also scout for the right product for the regulars in their network while offering them advice on how to prepare the food in the best way.
Organic grocery stores in France:
Organic items are known as "bio" in France and you will find many organic chains in this country. Some of these stores are known for offering organic skincare products, on the other hand, others are known for offering some bulk purchases and niche products. Like the usual big grocery chains, these organic grocery stores in France mainly sell products of the same brands along with some local particularities and various rates. Sometimes, these stores are quite costly, and the quality doesn't always justify this high price. You can visit the farmer's market to get the desired fruit and veg if you need the best quality at a better price.
Shopping for frozen goods in France:
There are several French grocery stores where you can find a good collection of frozen vegetables, frozen fruits, prepared meals, mixes, and frozen desserts both regular and organic.
Zero-waste grocery stores in France:
Several medium-sized and all grand surface grocery stores in France come with bulk stores along with organic stores. If you want to shop from there, you have to bring your produce or paper bags. Here new laws are implemented every year to make shopping plastic-free and less wasteful. So, plastic grocery bags and other plastic bags are forbidden in these stores. But you can carry paper, sturdy reusable plastic, canvas, or bioplastic bags.