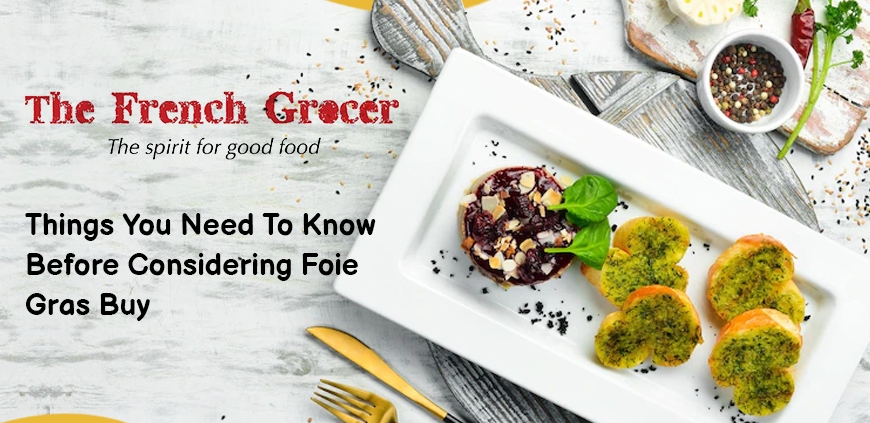 Foie gras in French is one of the exquisite delicacies, which have been enjoyed by people across the globe for centuries popular for their decadently rich taste and distinct taste. The French term Foie gras, which means "Fatty Liver", derives from ducks, which are fattened especially for producing succulently rich and larger than usual sized livers. While the majority of people consider pate whenever they talk about Foie gras, this is one of the popular ways how this gourmet delight is consumed. So, if you are planning to eat this item for the first time, you may require some pointers on how to have it. But before that, you must know a few things about Foie gras buy and the different ways to consume it.
You can get the best quality Foie gras from corn-fed Moulard Ducks. These hybrid ducks are produced by crossing male Barbarie with female Perkins. Moulard ducks are the ideal source of Foie gras as these birds have the natural ability to accumulate fat in their livers, which helps them to fly almost thousands of miles even without feeding. With proper feeding, the livers of these birds can increase to five times their original sizes. As a result, you can get incredibly large Foie gras lobes with a pleasingly firm texture and a flavorful, silky taste.
Types of Foie gras you can buy:
 Fresh Foie gras- This item is available in cubes, slices, or whole lobes. These lobes have a nutty, rich flavor, which comes with a single slice in typical servings. In most cases, fresh Foie gras is available in seared, braised, or roasted forms. Another subtly flavorful and easy method of consuming fresh Foie gras is to serve it pan-seared with some salt and pepper. And you can also pair it with dried nuts, fruits, a sweet-and-sour sauce, or honey. Or can serve it with a sweet Sauternes wine. This way, the cooked meat will be medium rare while having a barely softened middle area.
 Readymade Foie gras- This type of Foie gras includes Foie gras pate and Foie gras terrine. And it can be bought from the foie gras supermarket and can be consumed slightly chilled or at room temperature. All you have to do is to slice it into portions and consume it with thinly cut toasts. The rich taste of Foie gras becomes the main focus of the dish. Therefore, you will not need any competing flavors.
Guide to choosing Foie gras:
Whether you like frozen, fresh, or readymade Foie gras, the most important step is to select the source from which you can get the best quality duck Foie gras. These days, many gourmet shops and grocery stores offer this meat. But they are not fresh. Besides, there are some online sources from which you can get the best quality andfresh duck Foie gras. So, you can order the meat online conveniently and have it delivered to your doorstep.
Now let's have a look at a few things that you must check when buying Foie gras online:
1. Check reviews available in different consumer magazines: These reviews are often based on the findings of experts, who have tried different types of Foie gras. Reviews offered by these experts are quite helpful as the commentaries are considered safe and supported by different facts. But the only issue here is that you will find rare reviews of the same. But the reviewed ones are mostly manufactured on the industrial scale for selling across the world. Therefore, the quality of meat is different from the ones produced by small operators, who only sell their products locally.
2. Check the ingredients: The best quality Foie gras entier must include a whole liver where the lobes are separated carefully before cooking, pepper, and salt. On the other hand, the bloc Foie gras additionally contains a little amount of water, sugar, and nitrate salts. But it is better to avoid products with artificial flavorings, and antioxidants like ascorbic acid (E300) or sodium ascorbate. Remember that a good quality Foie gras doesn't need any of these ingredients, which are added to disguise poor flavors. The best chefs always use the top quality Foie gras and they complement it either by serving slices or by serving it as a terrine along with delicacies like figs, truffles, or simple green salads and a sweet white wine such as Sauternes.
3. Buy Foie gras with an authenticity level: When it comes to buying Foie gras online, choose products with the level "Foie gras de canard du Perigord", "foie gras du Sud- Ouest", "Oie du Perigord", or "Foie gras Label Rouge". Although these labels never guarantee that the products have wonderful flavors, it offers the assurance that the meat has been manufactured to a high specification while maintaining the best hygiene standards.
https://thefrenchgrocer.com/wp-content/uploads/2022/07/thefrenchgrocer.jpg
573
870
suvodebnath.timefortheweb@gmail.com
https://thefrenchgrocer.com/wp-content/uploads/2021/07/The-French-Grocer-logo.jpg
suvodebnath.timefortheweb@gmail.com
2022-07-22 14:58:14
2022-07-22 14:58:14
Things You Need To Know Before Considering Foie Gras Buy