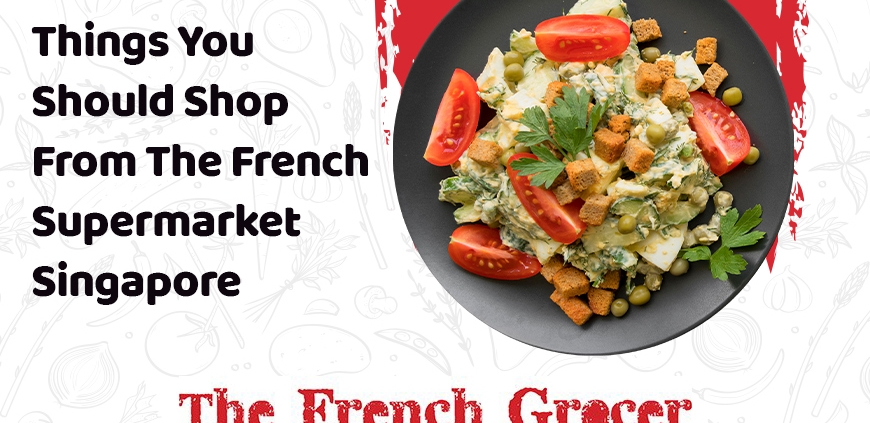 Things You Should Shop From The French Supermarket Singapore
Supermarkets are one of the most effective yet strange ways to learn about a country. And the range of products available in these markets says a lot about the cuisines of different countries. Besides, the provenance of fresh goods, the size of the containers, the offers, and even the packaging work like a peephole into the local culture. So, visiting the French supermarket Singapore is an interesting way to learn about the food and other items, which you have not heard about before. And it also works as one of the best ways to take home souvenirs.
Although the French supermarkets are not as big as the American ones and not exotic as other supermarkets, you can consider them as the most refined ones. French people always think about having good food. So, the French supermarkets are full of some great delicacies. So, if you have found a French supermarket in Singapore and want to visit it, then let us offer you a list of products, which you must buy from there.
1. Cheese: Don't copy the French rules here. The TV advertisers strongly influence the choices of French shoppers on the pre-packed aisle of cheese. Instead, visit the deli counter and try the free samples. But if you are not aware of the French cheese much, then ask the staff members a few questions and then select the right option.
2. Wine and beer: Even if you are not a wine buff, but want to taste French wine, then an intelligent trick here is to follow the French shoppers on the wine aisle. And when buying wine from the French supermarkets, avoid the sections on the shelf. Instead, it is better to get from the areas that already have several bottles removed. This is one trick that the French people follow, and now you can follow this too. And when it comes to buying beer, you will mainly find Belgian and French larger beer and there are no ales. Besides, you can also try out the Breton Cider.
3. Poultry, meat, and other meat: Before you visit a French supermarket to purchase poultry, meat, and other meats, always make sure you are aware of what you are purchasing. Apart from that, you can choose a supermarket that can get you the French food delivered on time. We would recommend learning vocabulary before you visit one as the French supermarkets often sell things that you may prefer to avoid like white veal and Fois Gras. Both of these things are produced with controversial animal care methods. There you can also find meat labeled as "cat", "dog", and "horse". Besides, tripe is a common variant, which is available in sausage and tins. In French supermarkets, you will find a complete range of whole salamis. And in these markets, the portions of bacon are available in lardons or little cubes instead of slices.
4. Fruits and vegetables: The range of green vegetables available in the French supermarkets is quite different than those found in the supermarkets of other countries. The only common thing you will find in the former is the French beans (Haricots Verts). Besides, you will find nothing from the broccoli or cabbage family. And Parsnip is also consumed rarely in France. But if you visit these markets in summer, you will find a complete range of summer fruits. The only problem here is that you will not be able to buy those fruits a lot.
5. Canned or tinned food: If you are visiting the French supermarket to shop for the food for your upcoming road trip, then there you will find different variations of canned or tinned food. One of the popular variants is the tin of sausage and baked beans mixed with chicken soup. Besides, there are long-life milk cans. Apart from that, you can also find tinned curry in a single flavor in some of these markets.
6. Bread or cake: Even a few years back, rectangular sandwiches with sliced bread were rare in France. But now you can readily find sliced bread in British style in the supermarkets. And some of the bread is found without crusts as they are made to prepare the poshest cucumber sandwiches later. But if you are looking for wholemeal, then you can go for "pain de champagne" or "complet". Gache is sweet, soft loaves, which look like brioche, but they are sour, gritty, and quite different.
7. Stationary: Stationary and office supplies always have a great value in the French market compared to the supermarkets of other countries. So, in the French supermarkets, you can get some good value folders and lovely pens along with some school equipment like compasses. But before you purchase notebooks from these markets, you must know that the French notebooks are made of square paper to fulfill the requirements of French schools.