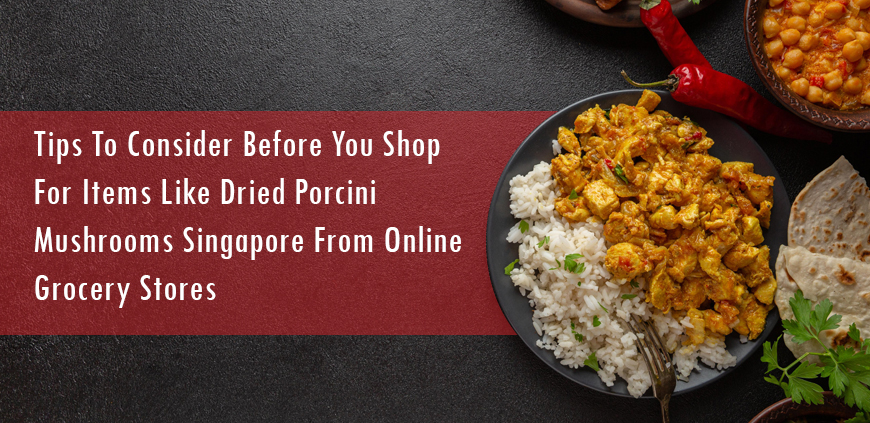 Tips To Consider Before You Shop For Items Like Dried Porcini Mushrooms Singapore From Online Grocery Stores
When it comes to checking products from an online grocery store, it often becomes tough to decide what to buy and whatnot. And the overall experience is quite confusing. Even though it is said that shopping offers a satisfying experience to the users, the availability of so many options often makes the job daunting. As a result, we fail to choose the right grocery items and end up purchasing things that we hardly need. So, to help you out in this process, in this blog, we mention some important hacks that can help you to shop your grocery online in a hassle- free manner.
1. Prepare an elaborate list: If you visit an online grocery store aimlessly then this can dig a hole in your pocket as you often end up purchasing the most alluring products that you may even not need. Therefore, it is important to prepare an elaborate list before you visit the online grocery store.
2. Decide your budget: Fixing the budget before shopping for the monthly grocery can help to maintain track of the finances. Besides, it also helps you to curb the urge to splurge on the products that you hardly need. Therefore, always decide your budget before you go shopping.
3. Weigh all the options: Before zeroing down on any product, make sure you thoroughly check all the possible options as online grocery stores often come with numerous
options. Remember that making an informed choice is important when it comes to purchasing grocery items to stay within the budget. So, always take your time to choose
the best and never make impulsive choices.
4. Check the manufacturing and expiry dates of products: The next step to purchase groceries online is to check the manufacturing and expiry dates of products beforehand. This is mainly important in the case of edible and perishable products like turkey leg Singapore.
5. Check the labels carefully: Even when purchasing from offline grocery stores, we often ignore the labels because of the lack of time. But you will be amazed to know that checking the labels is one of the important steps to follow when it comes to buying products both online and offline. Checking the labels will help you to get a clear idea about the ingredients of any products including preservatives, sugar, fats, carbs, etc. This way, you can choose the right products depending on your health conditions.
6. Buy canned food items carefully: Although it is better to avoid canned food, if you want to purchase these items like dried porcini mushrooms Singapore then purchase the products on recent dates as the canned food items often develop molds and fungus.
7. Never shop when you are hungry: Whether you agree on the fact or not, we often get fascinated with sweets, munchies, and other unhealthy products when we are hungry. So, never shop when you are hungry to avoid purchasing unhealthy food items.
8. Avoid processed meat: Nowadays, we often purchase frozen and processed meat products as they are comparatively easy to cook. But in reality, these processed and frozen products have low nutrition. So, you must avoid buying these products from online groceries. It is always a better option to stick to local and fresh produce to enjoy healthy food. Choosing fresh food also helps you to curb the urge to buy junk.
9. Check offers and discounts: The majority of the online grocery stores offer lucrative offers and discounts to the buyers. But remember that there can be some misleading offers that you must avoid. If you have any confusion, talk to the sales executive before purchasing the product.