"Rosedale Ruby" Cote de Boeuf ~1kg MB3+ Frozen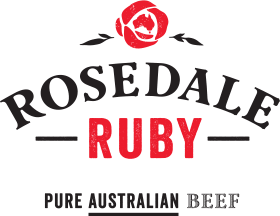 With its rich superior flavour, perfect marbling and guaranteed tenderness, Rosedale Ruby is simply pure Australian Beef of distinction.
MULTIPLE AWARDS FOR OUTSTANDING BEEF!
Rosedale is a family run business and has the largest Polled Charolais herd in Australia. Pasture-raised and grain-finished it is perfectly tender and nutritious.
Bone-in rib steak, or Cote de Boeuf, cut from ribs six through twelve, is full of flavour.
It contains large eye muscle with elongated muscling and is streaked with strips of fat that surround the rib eye.
It has a good fat covering and is usually prepared by roasting. Cote de boeuf is the king of roasting joints.
TIPS : Before eating it, let your "cote de boeuf" overnight in the fridge, out of the plastic bag, the meat will oxygenate and get red.
When grilled on a BBQ or in the oven, let the meat rest 5 more minutes after cooking before cutting it.
Product Description
Origin: Australia
Type: Rosedale Ruby A+ premium grade
Individually Vacuum Frozen